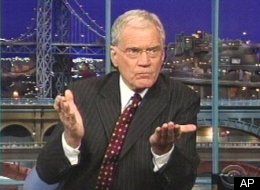 An ex-"Late Show" intern unmasked herself Saturday as one of David Letterman's former flings – and sources revealed the randy funnyman keeps a bachelor pad atop the Ed Sullivan Theater.
"I was madly in love with him at the time," said Holly Hester. "I would have married him. He was hilarious." It all started in 1990 when Letterman asked her out on a date to see a movie and the secret romance (/affair? he's been with the mother of his child since 1989. no word on if they had gone on a "break" the year of 1990), until the funnyman called it off because of their age difference.
Hester, quoted by TMZ made the stunning admission as a Letterman show source dished that he kept a secret bedroom above his set in the Ed Sullivan Theater on Broadway. "He doesn't have to come out," a staffer said. "He has a suite upstairs."
An ex-"Late Show" staffer said Letterman kept a room insiders dubbed "the bunker" that was open only to his favorite young female underlings.
Letterman, 62, admitted on the air Thursday that he had had several affairs, apparently while dating longtime love Regina Lasko, who he married in March. The two have a son, Harry, 5.